Good for you Kim! I'm so glad Dr. Cotton called you back and that things got set up so quickly! The only thing better would be if you were going to be in Cincinnati on Friday when we're going to be there!
Good luck and we will all be waiting for good news from your trip.
Erica (Lily's Mom)
__________________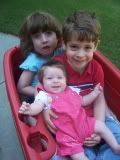 Our fabulous Lily was born 5-26-01 with partial trisomy 7q, Pierre-Robin sequence, VSD, GER; had trach, GT, Nissen at 4 weeks, cleft palate repair at 6 months and 18 months. Decannulated 11-15-04. Proud big sister to Benjamin 10-10-03, baby Vivienne 3-5-07!